WHILE some clubs have only just begun their seasons and others are gearing up for openers, Bemsee has already pulled curtains on its second round.
And it was a weekend of record-breaking action across the board for Dan Singleton and Adam Hartgrove, along with a handful of new winners and emerging title threats.
Cedric Bloch maintained his 100% record in the L&W Contractors Rookie 600 class, winning both races leading for many to pencil him in as an early favourite for this year's crown. Bloch took all four wins at the season-opener at Brands Hatch, and was untouchable again this weekend.
He took the win in race one by 10sec, with Toby Reynolds second and Elliot Fricker third. That was followed up by another win in race two, although this time he was chased all the way to the line by Fricker, less than half a second the difference at the chequered flag. Third went to Reynolds.
In the Rookie 1000 championship Michael Cherrett was the victor in the first race, crossing the line a huge 28.5sec ahead of runner-up Chris Thomson after Luke Dixon crashed out. Seb Jenkins was third.
There was an equally significant margin of victory in the second outing, this time with Luke Dixon the victor by half a minute, as Cherrett finished second and Jenkins third.
Oulton marked the opening round of the DFDS Yamaha Past Master championship, where Scott Grant was quick off the mark to qualify quickest by nearly a second as he looks to finally get a championship win under his belt. And he converted it to victory despite an intense battle with Doug Edmondson.
No more than 0.7sec separated early leader Edmondson from grant. Dicing at the front saw Grant lead across the line for the first time at the start of the penultimate lap, and he held on to take the win with Edmondson second.
Second went to Peter Moore following a last lap pass on Ben Miles, who was forced to settle for fourth ahead of Scott Carson and former champion Peter Branton. Douglas Beacock was the Clubman victor in eighth. The Rookie win went to Richard Haywood in 13th.
Grant looked on for a double as Edmondson ducked out with mechanical woes, but the front-runner crashed from the lead on lap five, leaving Miles to inherit the lead.
Miles and Moore resumed their battle from race one, with Moore again coming out on top, this time for the win, just a tenth of a second covering them at the chequered flag. Branton was third, himself just two tenths ahead of Carson. Beacock added another Clubman win to his tally, with Haywood the Rookie winner in 10th.
Lewis Blackstock and passenger Paddy Rosney looked set to dominate the two RKB-F1 and F2 Sidecar races around the Oulton Park circuit, after setting a pole position time over a second quicker than anyone else.
And after recovering from a mediocre start, they hit the front on lap two and storm to a 10sec win. The pairings of John Holden/Lee Cain and Lee Crawford/Scott Hardie were left behind to dice for the F2 win, finishing second and third respectively.
Blackstock and Rosney shadowed Holden and Cain on the opening lap of the second race, before forcing the issue on lap two to take the lead. They pulled away and looked on course to take another victory, but their race ended by rolling down pitlane on the penultimate lap.
The same fate befell race one F2-class winners Holden and Cain, who started the penultimate lap while circulating in third before ending it in gasoline alley.
The lead was handed to Sam and Adam Christie, the pair taking the overall and F1 class win, with Jevan Walmsley and driver Peter Founds second and the F2 victors. Crawford and Hardie grabbed the final podium spot and the silver medal in the F2 category.
There remain only two winners this season to date in the EDIasia Formula 400 series, as Chris Burrage and Glynn Davies took one win apiece at Oulton Park.
It was Burrage who drew first blood, qualifying fastest and leading early in race two. Pressure came from Davies, however, the championship leader taking the lead on lap five, but Burrage was back in front a lap later when the red flags came out for an incident at Old Hall. Matthew Scott took third, with the Sub-64bhp class victory going to Ben Miles in seventh.
Davies carried out his revenge in race two in the best possible fashion, leading from start-to-finish to take a commanding win, crossing the line and taking the flag with Burrage six seconds further down the road behind him. Scott grabbed another third, as Miles, too, secured another Sub-64 with another seventh.
The second round of the Steve Jordan Motorcycles BMCRC Thunderbike Extreme and new Thunderbike Ultra championship saw Aiden Patmore extend his Ultra series lead, as he grabbed both overall wins.
It was an all-Ultra podium in race one, with Patmore the victor ahead of Steve Palmer. The fight for third was decided by just two tenths of a second, with Ande Friend holding off Barry Chamberlain.
While it was a repeat podium in race two it was a tighter fight at the front. Patmore and Palmer were locked together, Patmore mostly holding the lead but Palmer took his turn in front.
But at the flag it was Patmore who clinched another 25 championship points, with Palmer half a second back as the runner-up. Friend was third, this time comfortably pulling away from Chamberlain in fourth. In the Extreme class, Adam Norton and Andrew Saunders took one win each.
The ACU Team Green Junior Cup and Senior Ninja Cups again provided some of the closest racing as Junior Cup rider and British Junior Supersport entrant Max Lofthouse taking both wins.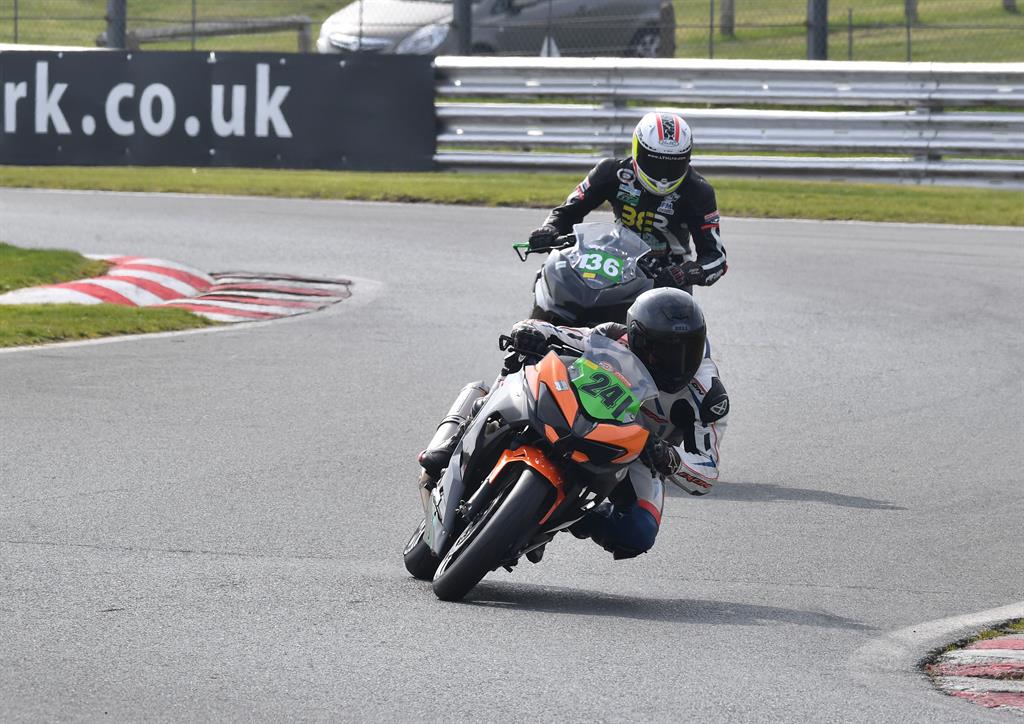 It was anything but comfortable, however, and in race one he endured plenty of pressure from Harry Fowle. But it was Lofthouse who came out on top, crossing the line two tenths of a second ahead of Fowle as the latter picked up the Senior win. Behind, Kai Dickinson rode to a lonely third place and second in the Senior class.
In race two Lofthouse, Fowle, and Dickinson all took turns at leading, stuck together until Lofthouse broke away in the latter stages. He pulled a gap of nearly three seconds in the end to take another overall and Junior Cup win, while the runner-up position and Senior win was decided by just 0.04sec while Fowle took another Senior victory.
*Click here for results from Bemsee Round 2
*Images: JTW Motorsport Photography